Report states that Serbia did not conduct the reforms in Chapters 23 and 24 in a satisfactory manner, and that more efforts will have to be undertaken in the upcoming period to prevent the worsening of the situation.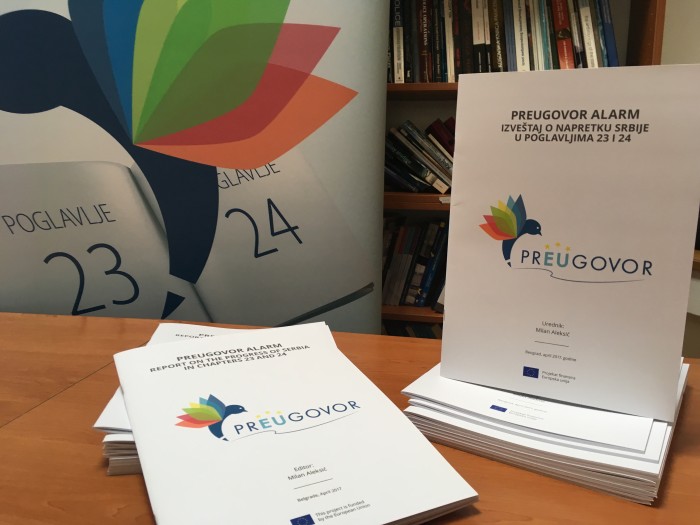 The coalition prEUgovor has published new monitoring report on progress of Serbia in regard to the adherence to political criteria for EU membership and policies covered under chapters 23 (Judiciary and fundamental rights) and 24 (Justice, freedom and security) of the negotiation process. At the end of each sub-chapter, report offers a series of recommendations for possible improvements.
Report contains findings in the areas that are of interest to the coalition members, that were monitored in the selected period. These areas include the normalisation process between Belgrade and Pristina, presidential elections, gender equality, fight against corruption, rights of the child and migrants, fight against terrorism.
Coalition prEUgovor has identified several obstacles in its independent monitoring of the progress in Chapters 23 and 24, some of which were: restricted/limited access to certain documents issued by the Government in connection to the negotiation process, weak institutional mechanisms for assessing the effects of implemented activities, and poor reporting on the implementation of the Action Plans, as the reports do not contain complete data.
Even though Government officials often claim that Serbia's pace in respect of the EU accession process is good when it comes to implementation of the Action Plans for Chapters 23 and 24, as well as in general, concerning the respect for democratic values and the rule of law, everyday developments do not necessary support these claims. Despite some of the positive developments (which are also noted in the report), the overall assessment of the state of affairs in the monitored areas is negative.
TABLE OF CONTENTS:
Introducion
1. POLITICAL CRITERIA
1.1. Democracy - Presidential Elections
1.2. Normalisation of Relations between Serbia and Kosovo
1.3. Anti-Discrimination Policy and Gender Equality
2. CHAPTER 23 - JUDICIARY AND FUNDAMENTAL RIGHTS
2.1. Judiciary
2.1.1. Impartiality and Accountability
2.1.2. Professionalism/Competence/Efficiency
2.1.3. War Crimes
2.2. Fight against Corruption
2.2.1. Strategic Plans
2.2.2. Governmental Priorities and Their Implementation
2.2.3. Work of the Parliament
2.2.4. Unfulfilled Action Plans' Measures
2.2.5 Anti-Corruption Policy in the Police
2.3. Fundamental Rights
2.3.1. Personal Data Protection
2.3.2. Access to Information of Public Importance
2.3.3. Principle of Non-Discrimination and Social Position of Vulnerable Groups 2.3.4. Rights of the Child
2.3.5. Strengthening of Procedural Safeguards in Line with EU Standards
3. CHAPTER 24 - JUSTICE, FREEDOM AND SECURITY
3.1. Migration and Asylum
3.2. The Fight against Organised Crime
3.2.1. Police Reform
3.2.2. Combating and Suppressing Human Trafficking
3.3. The Fight against Terrorism
3.3.1. Major Shortcomings of the Draft National Strategy and Action Plan for Prevention and Fight against Terrorism
Members of the prEUgovor are:
ASTRA - Anti trafficking Action, Autonomus Women's Center (AWC), Belgrade Centre for Security Policy (BCSP), Center for Applied European Studies (CAES), Center for Investigative Reporting in Serbia (CIRS), Group 484 and Transparency Serbia (TS)
Mission of the prEUgovor is to oversee the implementation of policies in the field of judiciary and fundamental rights (Chapter 23) and Justice, freedom and security (Chapter 24) and propose measures to improve the reforms, using the process of EU integration to achieve substantial progress in the further democratization of Serbia.
Follow prEUgovor activities on the official Facebook page and Twitter account.