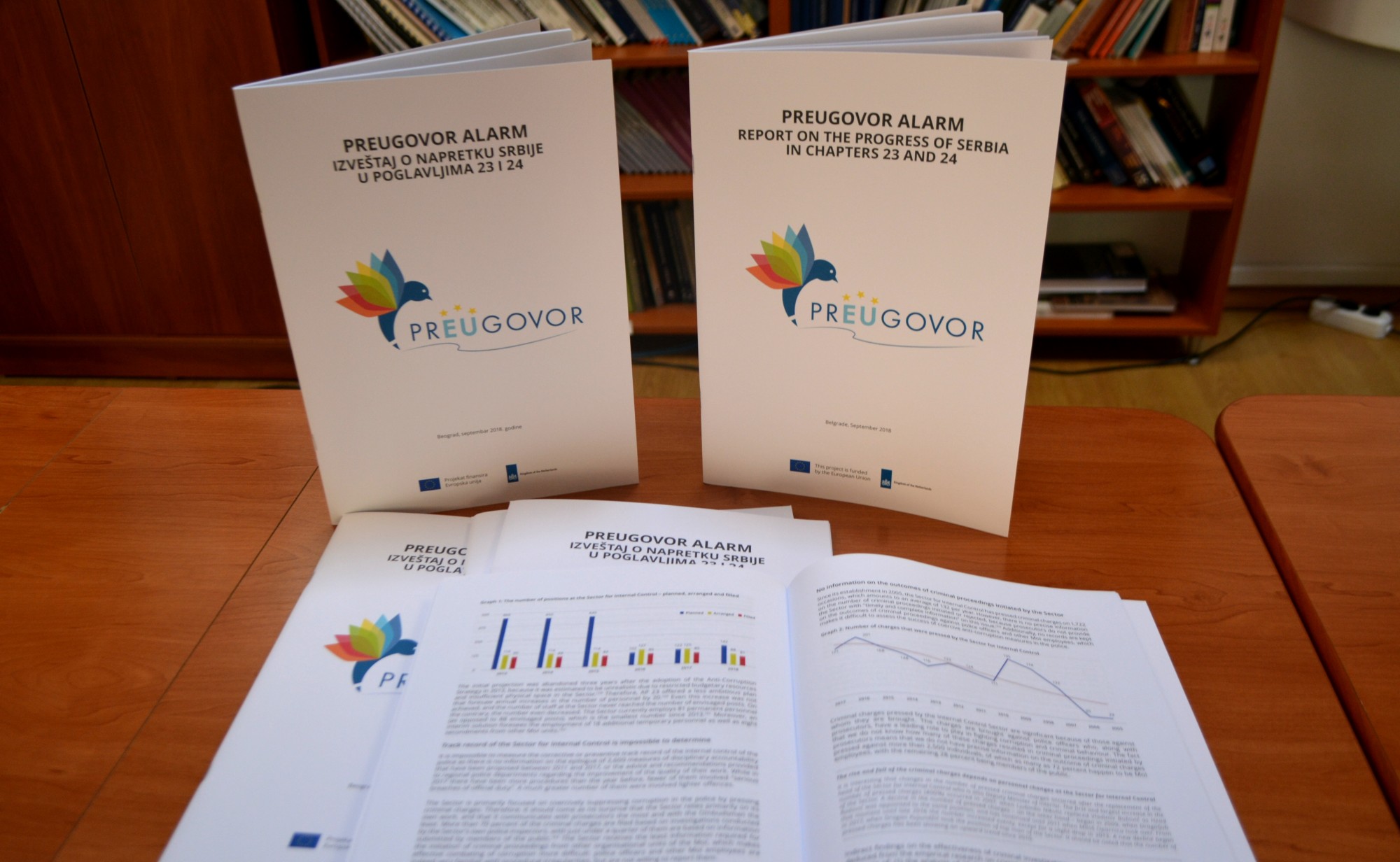 This report contains the prEUgovor coalition's assessment of the political criteria for the EU accession process and the fulfilment of criteria for selected policy areas from Chapters 23 and 24 for the period October 2018 - March 2019. The key finding is that recent developments can hardly be assessed as positive; moreover, it seems that the overall tendencies in the monitored fields show worrying and in some cases alarming signals.
The government continued the practice of abuse of public resources during the election periods, while the executive and the ruling majority continuously deprived the Parliament of its legitimate functions. Another worrying fact is the increasing number of laws that are being passed by urgent procedure and in most cases without any public debate. These practices have led to an alarming consequence - namely, the opposition has left the Parliament.
Besides the above, the authorities keep undermining the work of independent control institutions by systematically ignoring their recommendations. Once again, we have an atmosphere in which non-governmental organisations are declared enemies and traitors; they are left out of all the dialogues and are not welcome in the solving of social problems. At the same time, the government is creating its own NGOs (GONGOs).
Relations with the neighbouring countries have deteriorated, while the people in Serbia are not provided with relevant information about the status of the solution to the issue of Kosovo. Moreover, they are often confused with contradictory statements made by key state officials. Not only is there no progress in the dialogue or bilateral relations, but the current narrative is actually more reminiscent of that which was used in the turbulent decades of the past than the constructive political dialogue of the 21st century.
The fight against corruption is at a very low level, threatening to become a mere simulation that is activated only periodically so that the authorities can easily score some cheap political points. Furthermore, there is a real danger that the very same mechanism (Law on Investigation of Property Origin) could be used against the opposition. Also, there are enormous problems with the potential consequences of the proposed constitutional amendments related to the judiciary, as well as a series of laws that are about to enter parliamentary procedure.
Generally speaking, the commitments made in the existing Action Plans for Chapters 23 and 24 are fulfilled inconsistently, while the deadlines are postponed on a regular basis. Well-known problems with the non-implementation of the existing acts and laws are still present. Having in mind the fact that two crucial EU issues to be addressed are the Rule of Law and the fight against corruption, lack of concrete results in these two areas is still a major alarming obstacle in Serbia's process of integration.
The majority of the key findings expressed in this report coincide with the lowered ratings that were given to Serbia by various international actors (Freedom House, for instance), thus confirming the alarming developments in the areas covered by Chapters 23 and 24.